I refer to her as the agent of the stars
I knew Darlene through the years and have referred many people to her. I refer to her as the agent of the stars ☆☆☆ - She is the very best!

Best In class
Darlene Dipo is the best in class and [a] role model for agents.

I wouldn't have considered anyone else
I consider Darlene Dipo a personal friend. I wouldn't have considered anyone else when it comes to my real estate needs. Thanks Darlene

Above and beyond
Thank you for going above and beyond
"You made my day"
Hi Darlene,
We received your VERY THOUGHTFUL "Anniversary Card". Thank You so much. You made my day.

We love our new home.

You are my hero. If only the rest of the world would work as you do. The world would be a peaceful and friendly place.

Your awesome!

Wow!
Hi Darlene,

We received your VERY THOUGHTFUL "Anniversary Card". Thank You so much. You made my day.

We love our new home.

You are my hero. If only the rest of the world would work as you do. The world would be a peaceful and friendly place.

Your awesome.

One thing to note, while your wonderful and thoughtful gift card is very appreciated, it is not something we need. My suggestion going forward, assuming you do this with other people and not just with your "FAVORITES- (US)", make that donation to the charity that your company or you support. Me thinks that most of your clients are in the same position that we are. Just a thought.

Our best to you and your family. XOXO

Thank You,
David, Angela Reid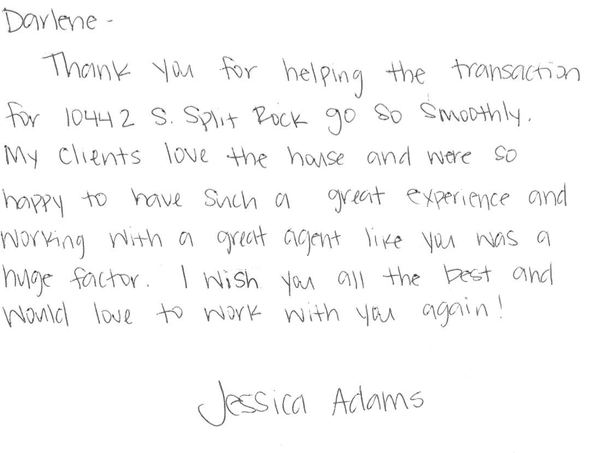 Other Agent Testimonial
Darlene- Thank you for helping the transaction for 10442 S. Split Rock go so smoothly. My clients love the house and were so happy to have such a great experience and working with a great agent like you was a huge factor. I wish you all the best and would love to work with you again! -Jessica Adams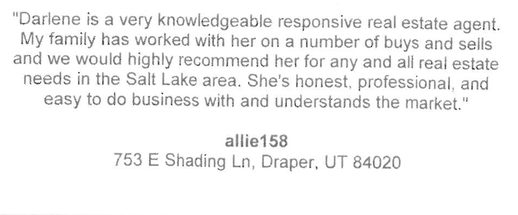 Easy to do business with
Darlene is a very knowledgable responsive real estate agent. My family has worked with her on a number of buys and sells and we would highly recommend her for any and all real estate needs in the Salt Lake area. She's honest, professional, and easy to do business with and understands the market.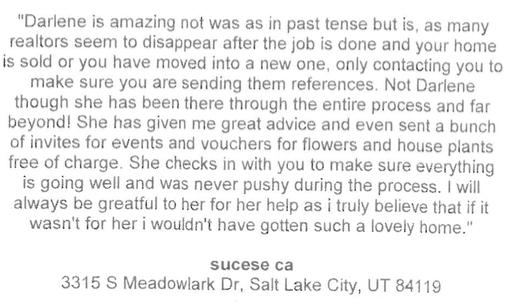 She has been there though the entire process
Darlene is amazing not was as in past tense but is, as many realtors seem to disappear after the job is done and your home is sold or you have moved into a new one, only contacting you to make sure you are sending them references. Not Darlene though she has been there through the entire process and far beyond! She has given me great advice and even sent a bunch of invited for events and vouchers for flowers and house plants free of charge. She checks in with you to make sure everything is going well and was never pushy during the process. I will always be greatful to her for her help as I truly believe that if it wasn't for her I wouldn't have gotten such a lovely home.

Top-notch real esate professional!
Darlene is a top-notch real estate professional! She has a wealth of local knowledge. I trust Darlene 100% in the home buying/selling process. She is extremely communicative throughout the entire process and ensures that the experience is nothing less than excellent. I would highly recommend Darlene to anyone in the home buying/selling process!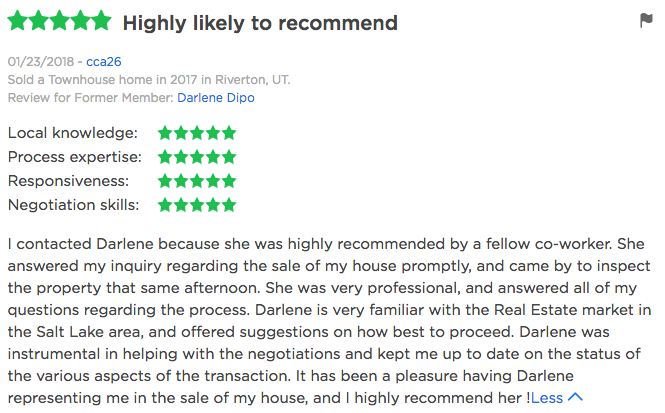 Highly likely to recommend
I contacted Darlene because she was highly recommended by a fellow co-worker. She answered my inquiry regarding the sale of my house promptly, and came by to inspect the property that same afternoon. She was very professional and answered all of my questions regarding the process. Darlene is very familiar with the Real Estate market in the Salt Lake area, and offered suggestions on how best to proceed. Darlene was instrumental in helping with the negotiations and kept me up to date on the status of the various aspects of transition. It has been a pleasure having Darlene representing me in the sale of my house, and I highly recommend her!

Best person and (realtor) on the planet!
Hi Darlene, Happy New Year's to you and yours. Thank you for the beautiful calendar. The tax documents will come in handy and is just another reason I think you are the best person (and Realtor) on the planet. I tell my brother (Florida Realtor/flipper) about the things you do and he is amazed. He cannot get a Realtor to even show up on time let alone do the stuff you do. He wishes he could work with you....... but you would need to relocate to Florida!!!! Have a GREAT day.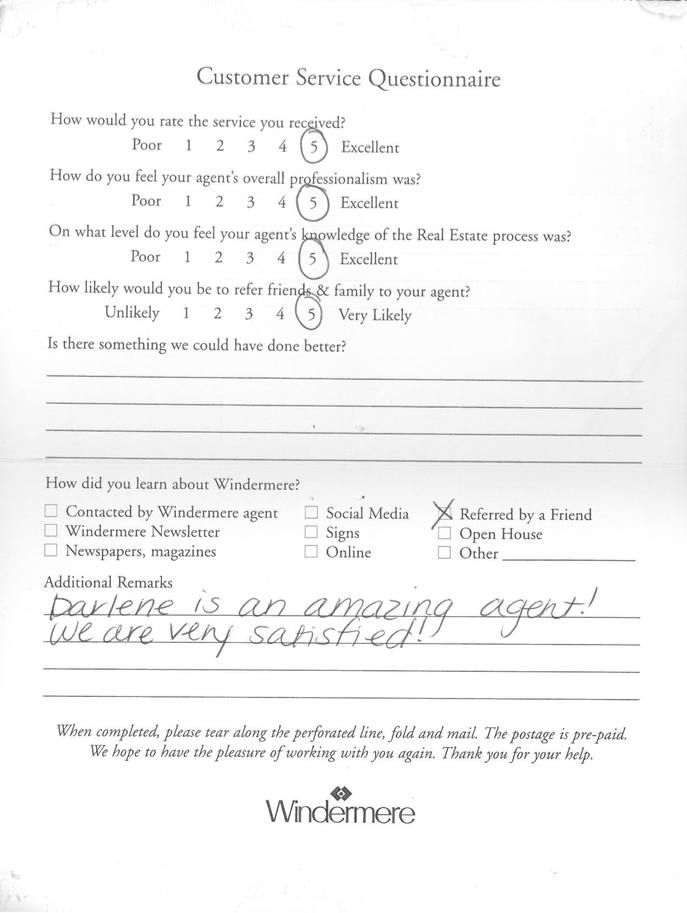 We are very satisfied!
Darlene is an amazing agent! We are very satisfied!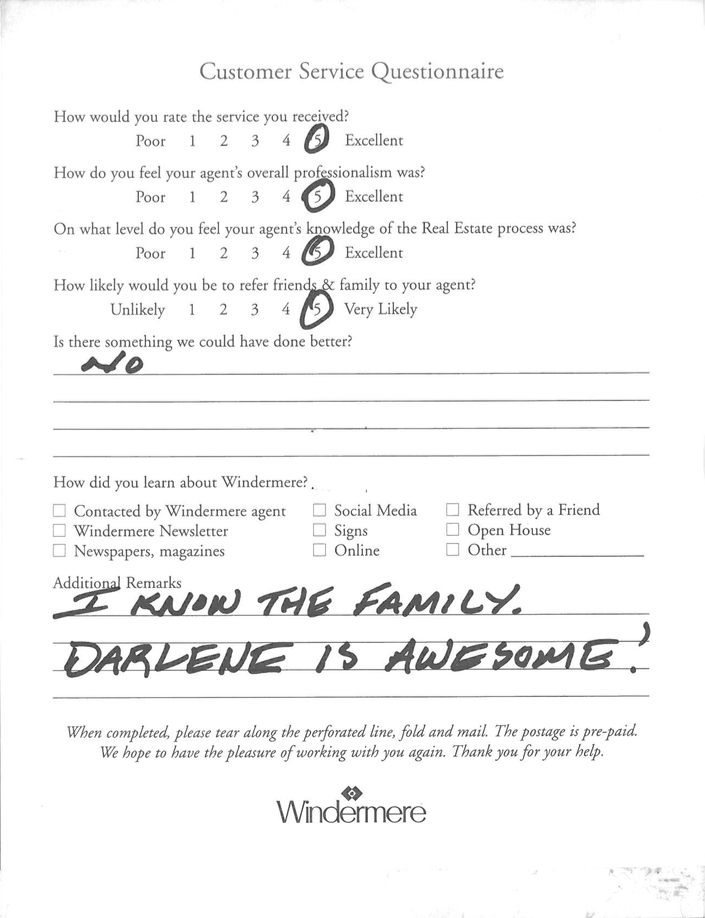 Darlene is awesome!
I know the family. Darlene is awesome!

We love Darlene Dippo
We love Darlene Dippo, I love working with her.

Patient Beyond Words
Darlene has worked with us for years, and has been patient beyond words with us. Her appearance and professionalism are beyond compare. We can't thank her enough.
Feeling Blessed — Thank you
Happy New Year Darlene!

I just wanted to pop you a note to tell you thank you so much for all that you did for us! I truly feel blessed by the Good Lord that I called you that day to help us navigate finding a home. You made Bryan and I feel very well taken care of and confident in our decisions to find the right home. Bryan and I both praise your expertise and guidance for us. You are a treasure!! I pray we get a chance to connect again and I'd love for you to meet my kids.

As you can imagine it has been very busy over here getting ready for the move. We put our house on the market last Wednesday and we were under contract by that evening. That is pretty rare over here, so I'm still in shock as to how fast and convenient that was. I did pray for it though, but still didn't expect it to happen in one day, but wow! So now we are really ramping up our packing and getting everything in order to make the move happen.

We hope to actually moving into our new home there in Sandy by the 28th of next month. The kids are excited, but nervous too and of course are hoping that the snow is still there by the time we get there. I will contact you when we get there to let you know how we are doing. Thank you again for everything! I got your note last week and I just received the package today with the Draper Community paper in it.

Take care and talk soon!

Bridgette K.

So Grateful
We are so grateful for Darlene's professionalism and reputation! We relied heavily on her expertise, knowledge, support and counsel. Cannot thank her enough for supporting us through this process.
Painless Process
We have the keys! Thank you to all of you... You made this a (relatively) painless process! We feel very blessed that we are able to make this happen, and truly grateful for all of you! Cheers!
Perfectly Done
Everything was perfectly done!

Our New Adventure
Thank you so much Darlene Dipo! You made this transition so easy for us, just like you said! We are sad to leave so many memories, but more excited to start our new adventure. Can't wait to see what we find!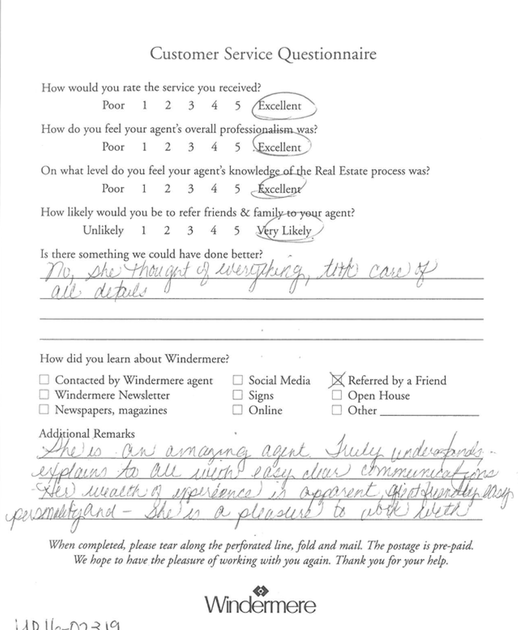 She is an amazing Agent
Truly understands, explains to all with easy clear communication. Her wealth of experience is apparent, great friendly easy personality and she's a pleasure to work with.

Helpful
It was a great experience! Darlene could not have been more helpful.

Great Experience
Darlene goes above & beyond to be helpful, professional & ensure a great experience. We will definitely refer her to our family & friends.

Excellent
Darlene was excellent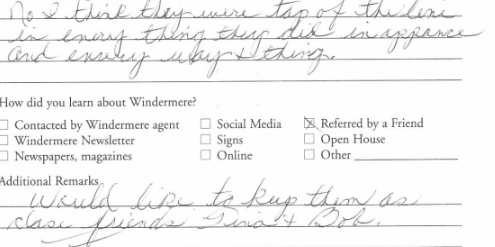 Top of the Line
No I think they were top of the line in every thing they did inappance and every way & thing. Would like to keep them as close friends. Tina & Bob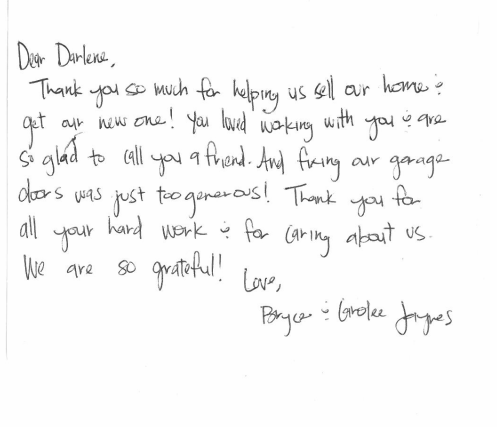 Grateful!
Dear Darlene,
Thank you so much for helping us sell out home & get our new one! You loved working with you & are so glad to call you a friend. And fixing our garage doors was too generous! Thank you for all your hard work & for caring about us. We are so grateful! Love, Bryce & Carolee Jaynes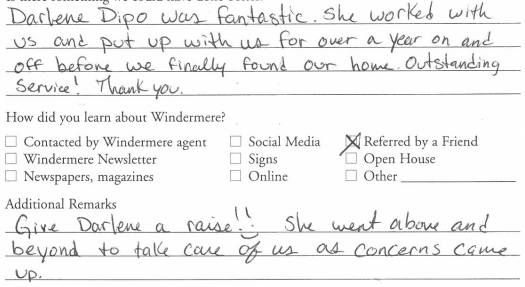 Give Darlene a Raise!! :)
Darlene Dipo was fantastic. She worked with us and put up with us for over a year on and off before we finally found our home. Outstanding service! Thank you. Give Darlene a raise!! :) She went above and beyond to take care of us as concerns came up.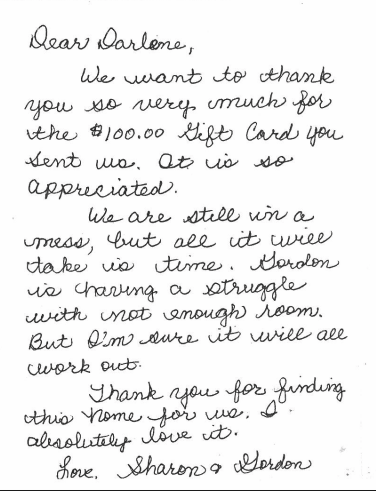 Thank You
Dear Darlene, we want to thank you so very much for the $100 gift card you sent us. It is so much appreciated. We are still in a mess, but all it will take is time. Gordon is having a struggle with not enough room. But I'm sure it will all work out. Thank you for finding this home for us. I absolutely love it. Love, Sharon & Gordon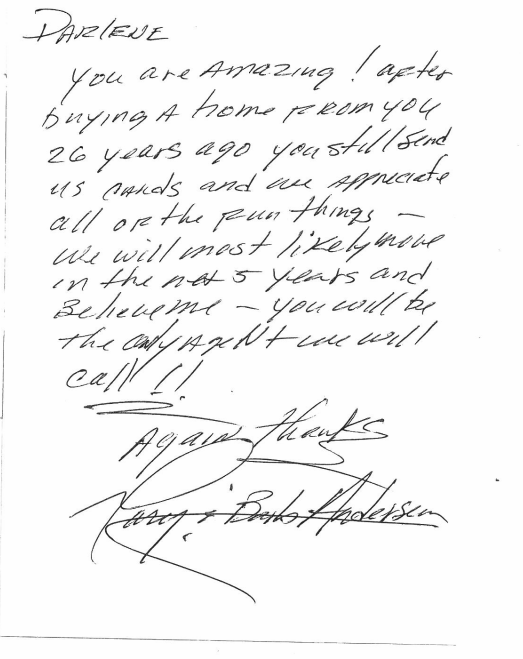 You are Amazing!
You are amazing! After buying a home from you 26years ago you still send us cards and we appreciate all of the fun things - we will most likely move in the next 5 years and believe me - you will be the only agent we will call! Again Thanks, the Andersens
Love the New House
I really love the new house...it is totally perfect. Thanks for all your help in getting the deal done. I just opened my mail and received a $100 gift card from Bed Bath and Beyond. Thank you very much.

Sincerely,

Ryan Redmond
CEO Customer Dynamics
801-680-1507

HUGE Thank You
A HUGE thank you to...my amazing realtor/grandma, Darlene Dipo for all your hard work and making this happen. And to the BEST FAMILY EVER for helping us move!!! Let the project begin!
25 year Relationship
Darlene,
Yes, 25 years ago you helped us get our home! You have never forgot to send us a Christmas card.. One day we'll move and you will be who we call... You're a special women and we wish you happiness and joy this Holiday Season.. Gary & Barb Andersen
Thank you, Darlene
Thank you, Darlene.
And thank you for everything. It was a pleasure working with you. If you happen to pass through Michigan, please we would be happy to meet you again.

Best Regards, Sorin & Mihaela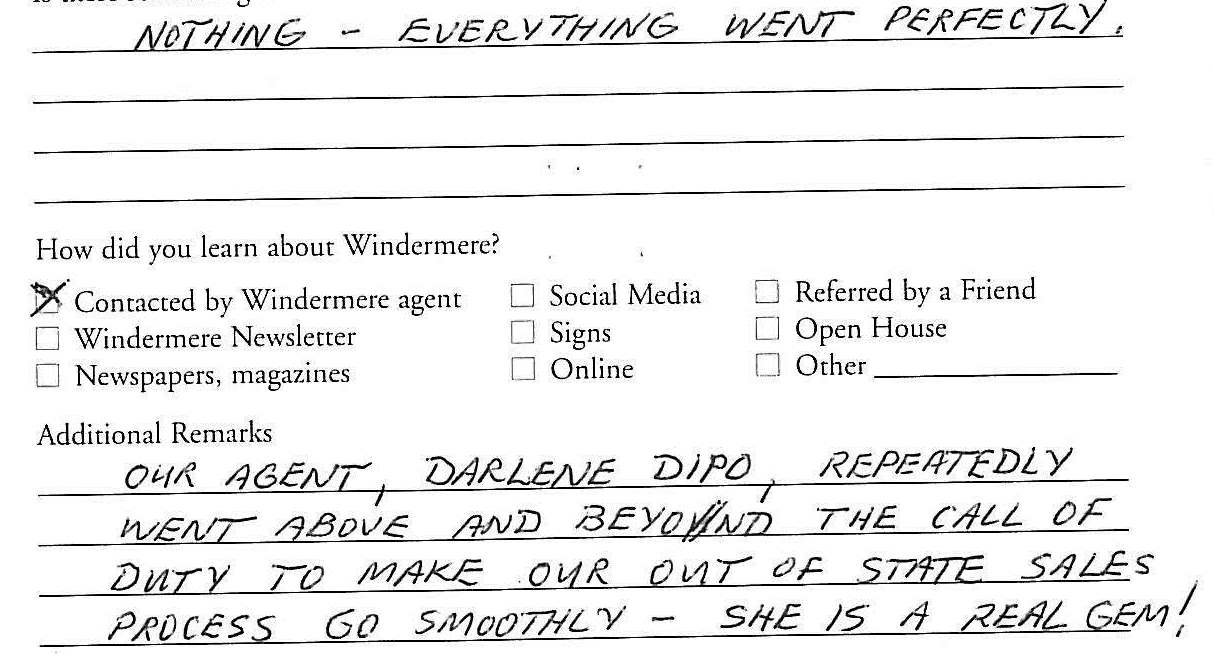 Everything Went Perfectly
Our agent, Darlene Dipo, repeatedly went above and beyond the call of duty to make our out of state sale process go smoothly-she is a real gem.

She is a Real Gem!
Our Agent, Darlene Dipo, repeatedly went above and beyond the call of duty to make our out of state sales process go smoothly - she is a real Gem!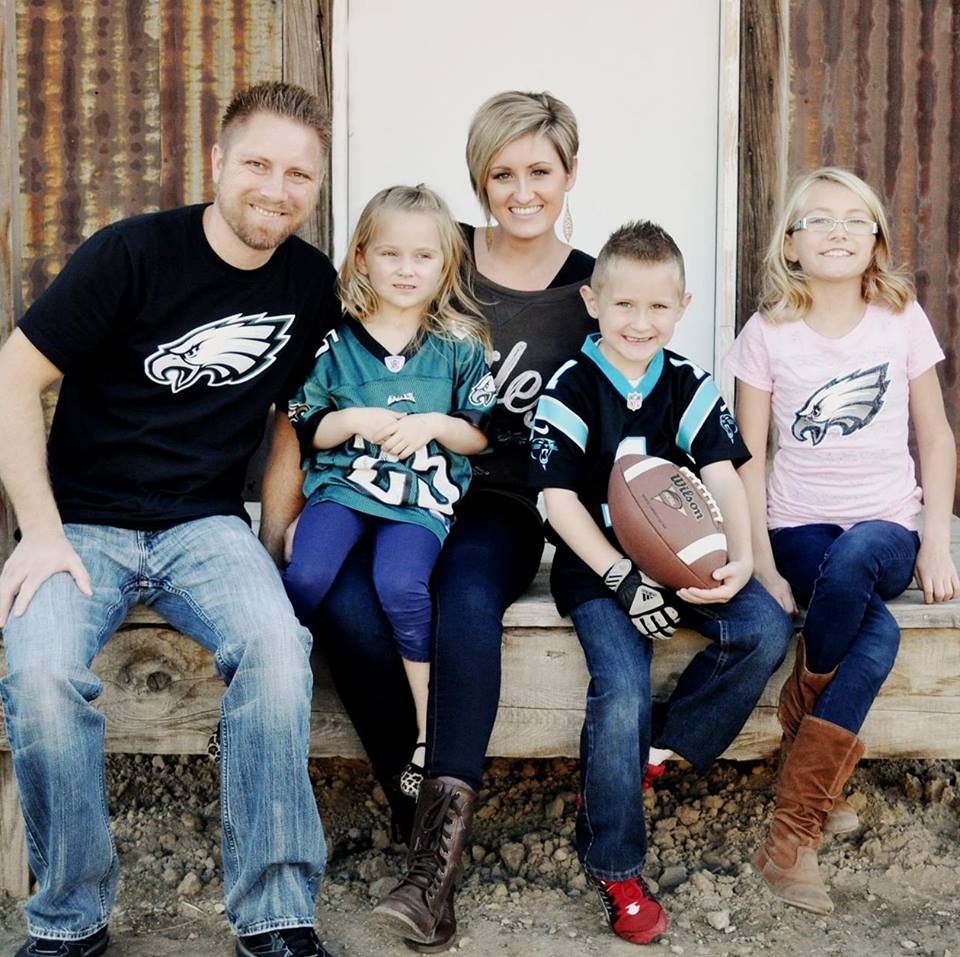 "Your the Best"
Your the best and appreciate you so much. You are such a loving person to help us out. There are so many realtors out there that don't care and you do care about your clients!!!! Ben Wade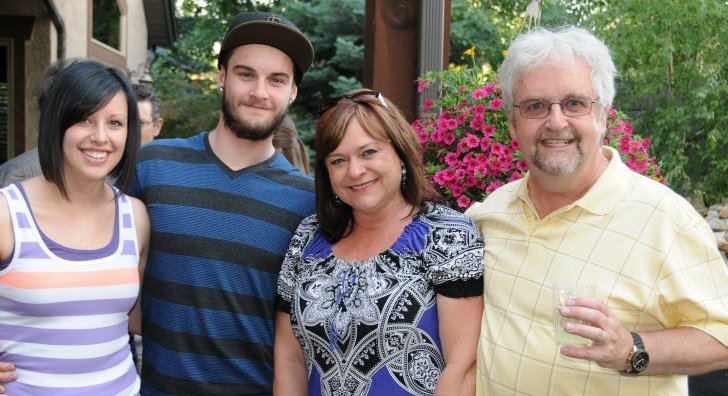 My Favorite Realtor!!
My favorite Realtor, My second favorite girl (don't tell Tom). Love and hugs, Peter XX (and Sharon too)

Sandy Chamber of Commerce
Darlene Dipo is an amazing community minded business citizen. She has served on the Board of Directors of the Sandy Area Chamber of Commerce and supported her fellow business owners with hundreds of hours of her valuable time and her hard earned cash. This is a very special giving person who works hard at building relationships, making friends and showing others how to do the same. There is no end to the number of people that love and respect her. We are honored to have her on our esteemed Board. She has taken this active business organization to a much higher level than it was when she joined.

Nancy Workman
Sandy Area Chamber of Commerce

Highly Recommended!
Darlene worked hard to help us sell our house and find another. I highly recommend her to anyone buying or selling.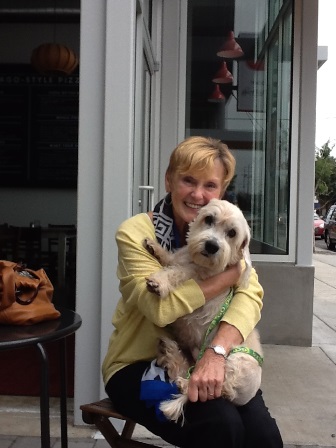 She Sold My Home Quickly!
As a widow, I knew that I needed a realtor that I could trust completely to advise me honestly and guide me through the entire process of selling my home. Darlene Dipo was that person! She sold my home quickly and helped me to navigate through the moving process, when at times, I felt overwhelmed with it all.
She Went the Extra Mile


Dear Darlene,
So here is my testimonial which you can print:
"Darlene helped my brothers and sister and I sell a lot that had been listed
for over 6 years with 3 other realtors. We took her advise and marketed it
a bit differently. She went the extra mile and attended 2 different meetings
(one with SL Cnty. Development and a 2nd with a Ogden developer). The
best thing she did was to get all 5 of us LLC members to agree on all of the
selling terms. No small feat" !
John D Ravarino, CPA


She went the extra mile...
She went the extra mile for me. At closing she even had a garden area cleaned out and re-planted.

Kathy Andrews
She Found Another Solution For Me
Darlene Dipo really helped me out when I needed to sell my house after a job relocation. In order to qualify for my new home in TX, I had to sell my home in Draper. When it wasn't selling in the time I needed, she found another solution for me that worked out so well. She found a buyer that wanted to rent my home for two years and then purchase it and then found me a mortgage broker in TX that would allow the rental income to be included for my new purchase. She was definitely a solutions oriented realtor and we're just about ready to finish up the rental time and enact the sell now. I am sure she'll handle the sell with the same professionalism she did with the transaction in April of 2012.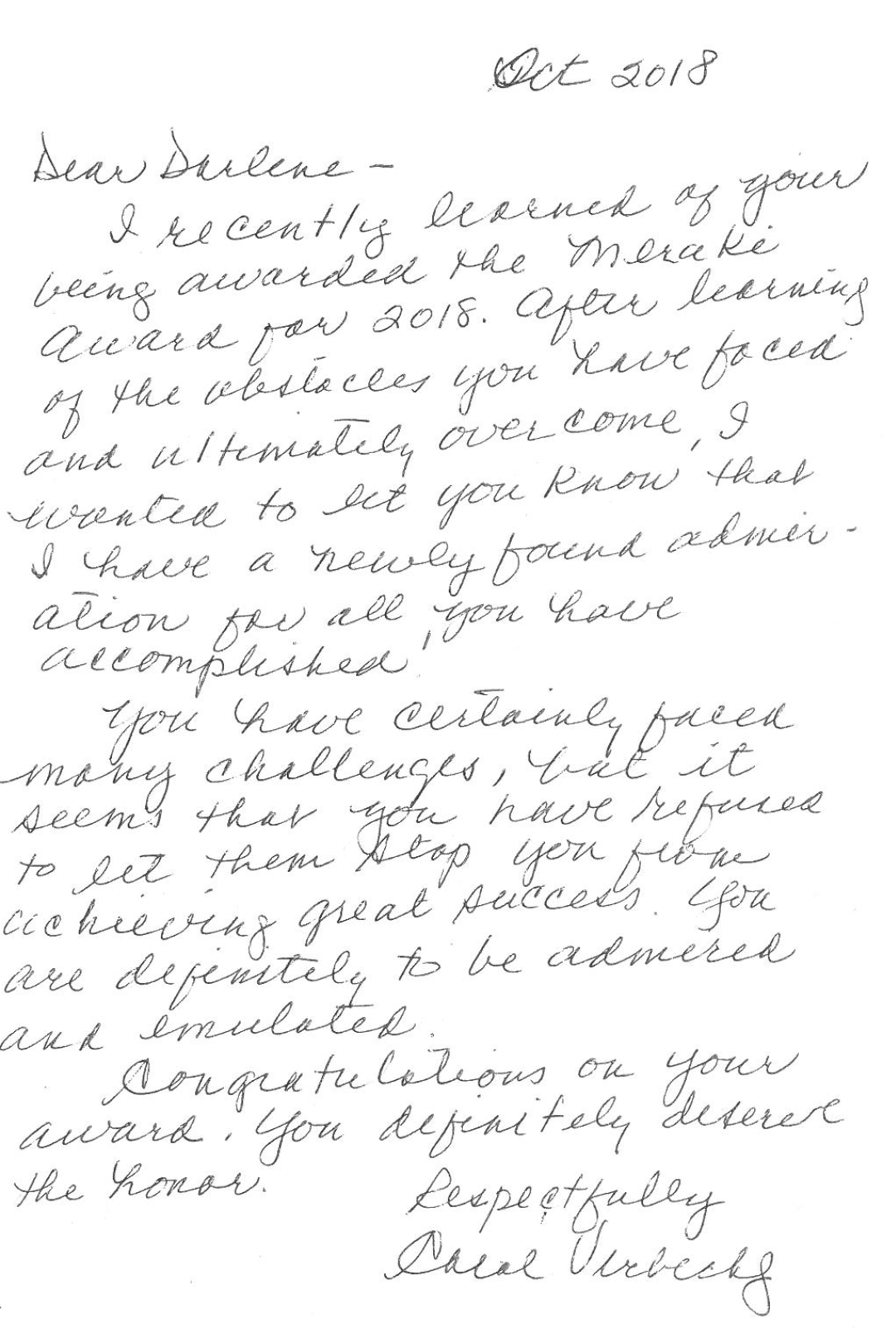 Congratulations on your award!
A note about the Meraki Award.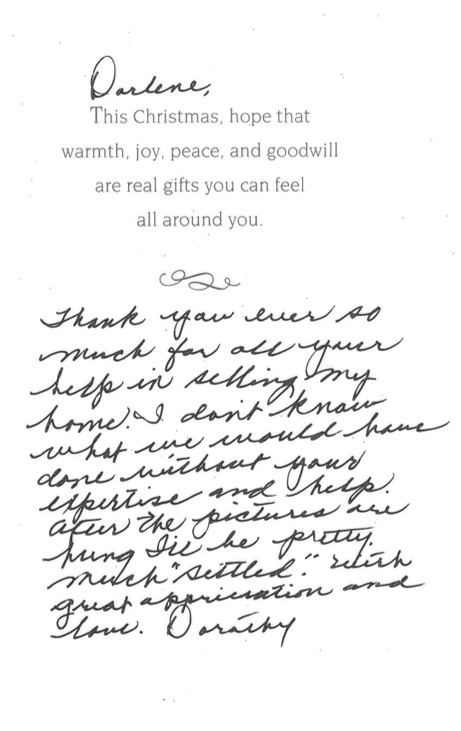 Thank you ever so much
Darlene,

Thank you ever so much for all your help in selling my home. I don't know what we would have done without your experience and help. After the pictures are hung it'll be pretty much "settled" with great appreciation and love.

Dorothy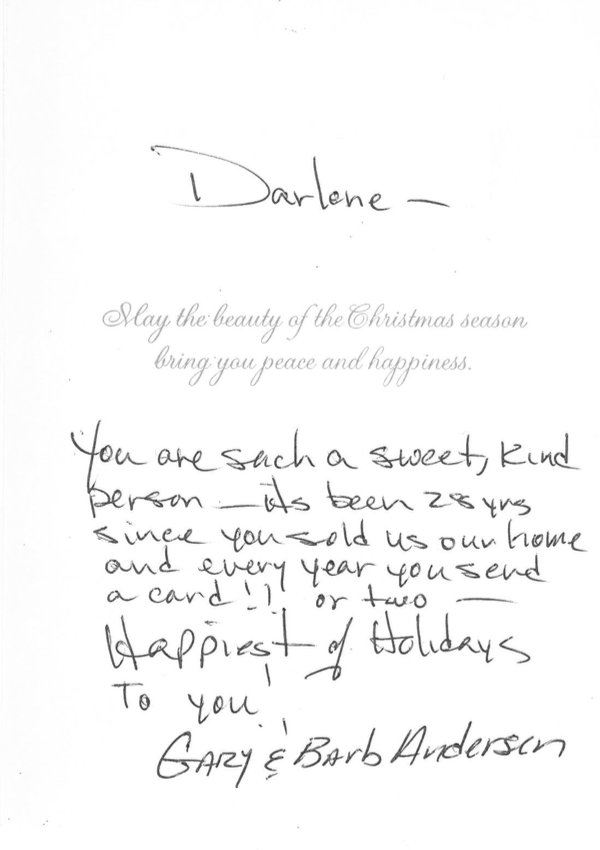 Such a sweet, kind person
Darlene-

You are such a sweet, kind person - it's been 28 years since you sold us our home and every year you send a card.. or two! Happiest of Holidays to you!

Gary & Barb Andersen